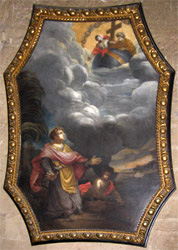 Peinture : saint Augustin
Huile sur toile, anonyme.
Saint Augustin, devant l'immensité de la mer, contemple la Trinité, guidé par un angelot.

Painting : Saint Augustine
Oil painting, anonymous.
Saint Augustine is contemplating the Trinity ; he is guided by a cherub in front of the vastness of the sea.
Pittura : san Agostino
Olio su tela, anonimo.
San Agostino, davanti all'immensità del mare, contempla la Trinità, guidato da un angioletto.